CUC and its affiliated journal initiate forum on international communication
Author:Zheng Huijuan

     2022-04-19

On April 8, in response to development paths for international communication in the post-pandemic era, a full-English academic forum was jointly organized by the Mobile Internet and Social Media Center of Communication University of China (CUC) and the Editorial Board of SAGE Journal Global Media and China.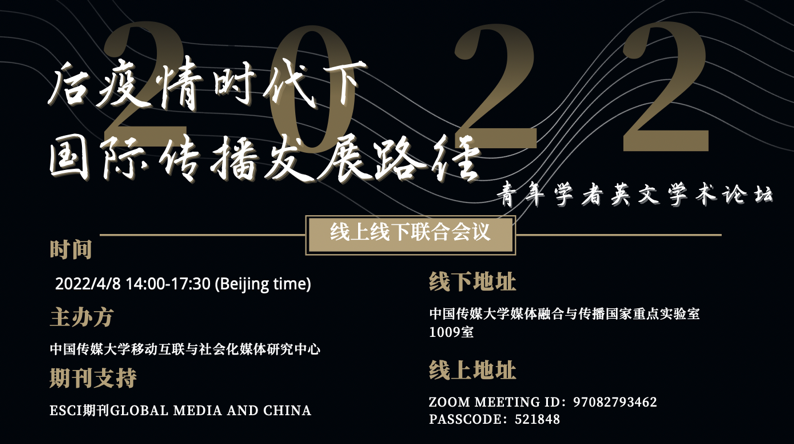 The forum was conducted both online and offline, featuring three roundtable panels. Scholars from universities at home and abroad, as well as analytics experts from Clarivate and Springer, were present to discuss new approaches in constructing discourse system for international communication amid post-pandemic.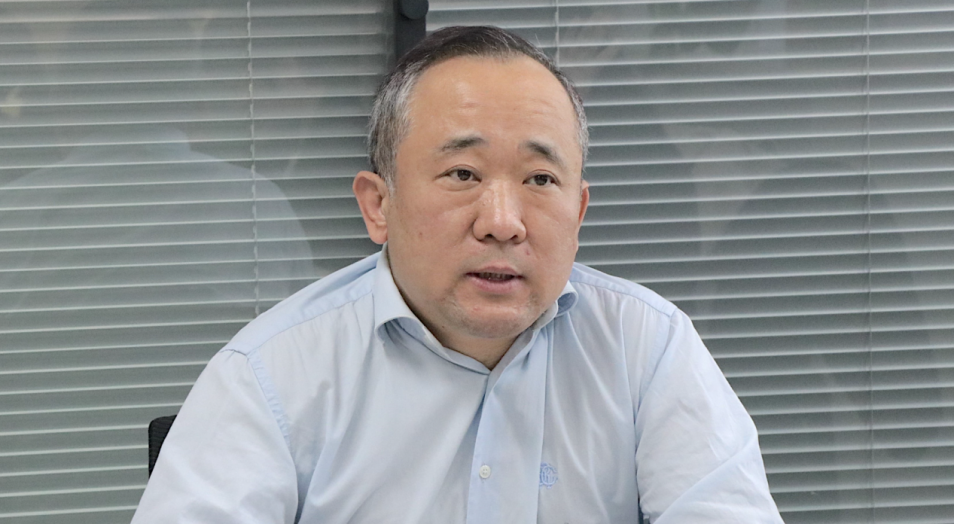 Duan Peng gives the opening speech
Duan Peng, Vice President of CUC, co-founder and managing editor of the journal Global Media and China, delivered the opening speech and address of welcome. He introduced that the journal Global Media and China led by CUC was included in ESCI database of Clarivate in October. 2019, becoming the first peer-reviewed journalism and communication journal from Mainland China to be indexed in ESCI. He also expressed gratitude towards all efforts to the launch of the English journal and hoped the attendees would continue improving its international academic impact.
The first roundtable moderated by Professor Anthony Fung from the Chinese University of Hong Kong, started off with a keynote speech by Michael Keane, Professor from Queensland University of Technology, who shared the significance of "imagined community" in the construction of society, collective identity and individual identity.
Zhao Yupei, Assistant Professor from Zhejiang University, delivered her speech on "Youth Culture Practices for Global South Turn", observing youth trends and cultural orientations in the context of subculture.
Later, Xu Deya, Assistant Professor from Shanghai Jiao Tong University, shared her study on development of dating apps and its users' behaviors over the past decade, followed by Cao Shule, Associate Professor from Tsinghua University, who explored innovative ways and future possibilities of entertaining social engagement in the post-pandemic era.

During the second roundtable moderated by Professor Keane, Jeroen de Kloet, Professor from University of Amsterdam, gave his speech entitled "On Platforms and Lying Flat: Media Youth and Resilience", revealing the ethos of Chinese youth living in big cities to embrace slow living.

Liu Tingting, Associate Professor from Jinan University, then discussed in her research that negative sentiments were predominantly triggered by incitement of misinformation and fake news. While Xu Tianbo from Anhui University explored the dissonant visibility of COVID-19 fact-checking information on mainstream media in the United States.

Subsequently, the third roundtable was moderated by Professor de Kloet. Professor Anthony Fung described the development of digital music platform in China in terms of opportunities and challenges pertinent to Western cultural hegemony and local industrialization.

Lin Jian, Assistant Professor from Zhejiang University, shared his research on "TikTok and the Platformization in China", looking forward to investigating matters ranging from digital culture and subculture, technical support and algorithmic logics to platform governance and geopolitics. And Zeng Xin, Assistant Researcher from Chinese Academy of Social Sciences, commented on the power of Moe culture in the international communication.

Han Xiao, commissioning editor of the journal Global Media and China, presided over the editorial board meeting and briefly summarized the achievements and challenges of the journal in 2021. In the discussion, the members exchanged ideas and proposed future plans for the journal in order to build a cutting-edge international academic research platform.

Editor: Ginson Lim
Chief Editor:Zheng Shuyu
Advisor:Zhang Xu