"Dayfly" honoured the Special Mention at MONSTRA 2022 - Lisbon Animation Festival
Author:Zheng Chuyu

     2022-04-05


Dayfly, animated by students from the School of Animation and Digital Arts, Class of 2020, Communication University of China (CUC), won the Special Mention in Student Short Films Competition MONSTRA 2022 at Lisbon Animation Festival.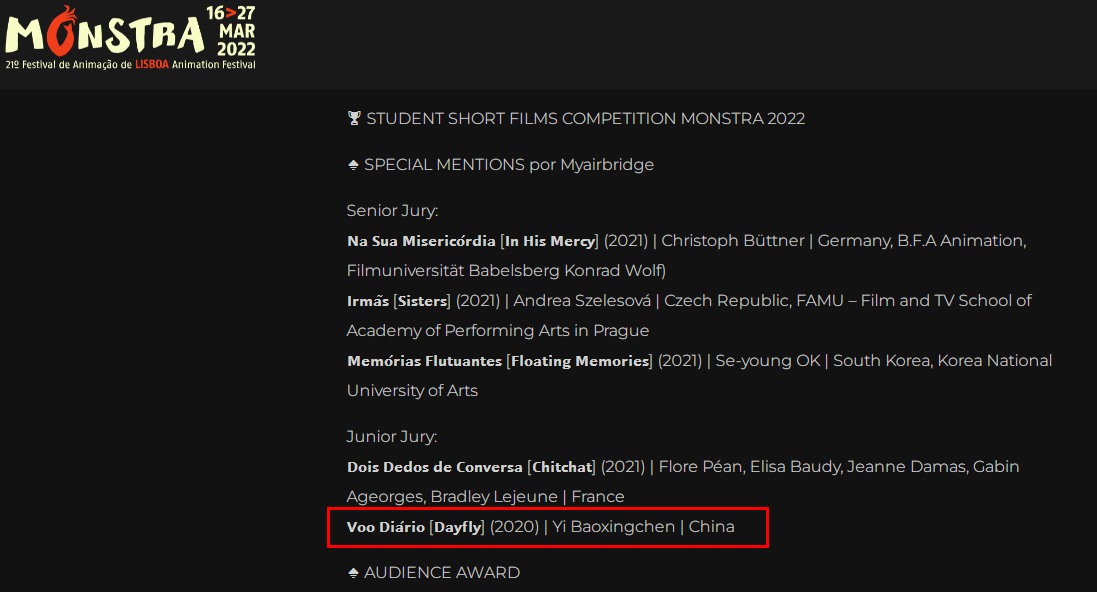 Dayfly wins the Special Mention in Student Short Films Competition MONSTRA 2022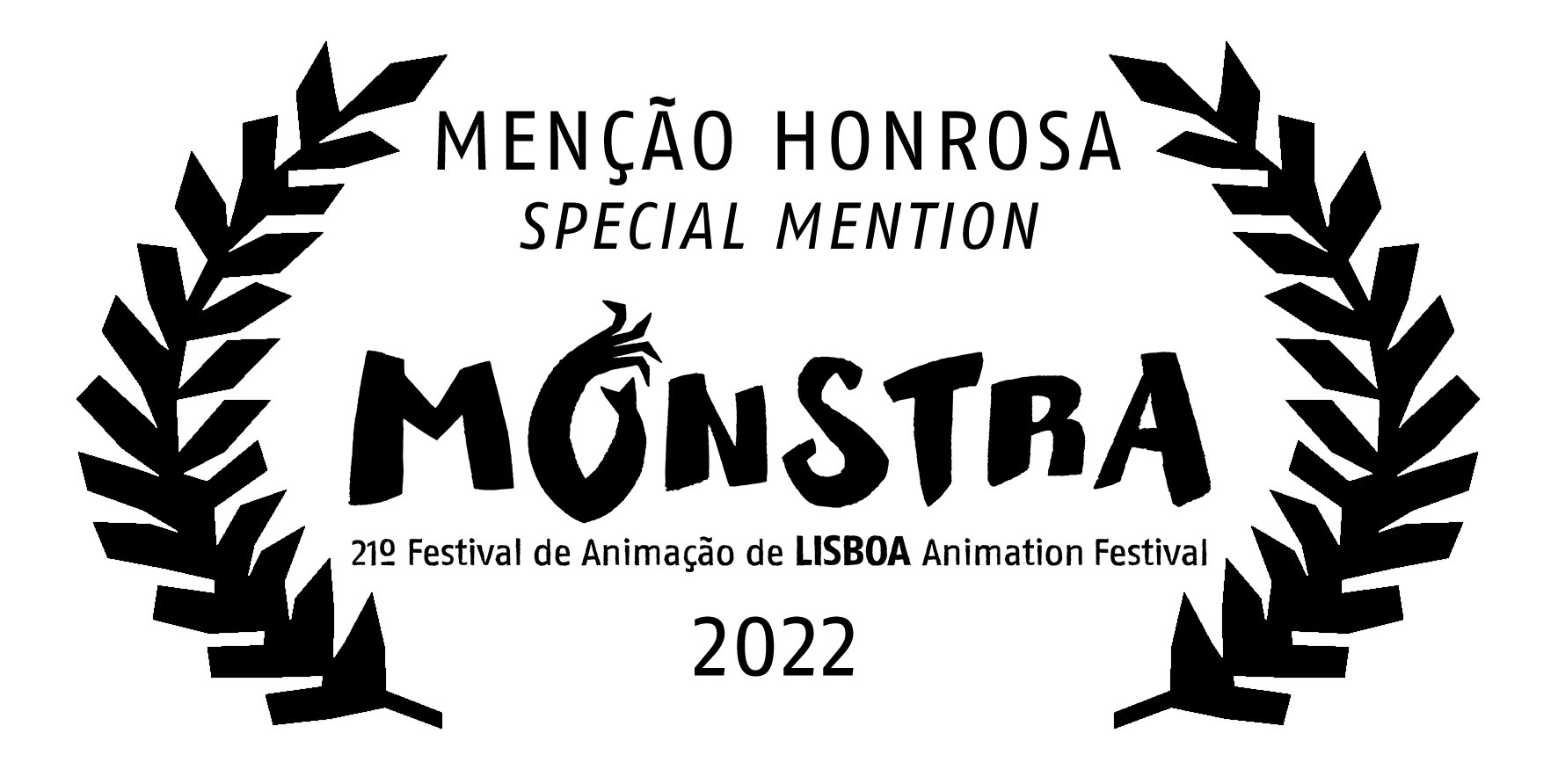 Laurel issued by MONSTRA 2022
Dayfly is a graduation project created by Yi Baoxingchen, Zhang Kerui and Zhang Youjie under the guidance of Prof. Ai Shengying from School of Animation and Digital Arts of CUC. The team stood out among 54 finalists from 27 countries and regions across the globe and was the only Chinese work nominated at the festival.
This production on the theme of life has been shortlisted for many prestigious international festivals in 2021, including the Stuttgart International Festival of Animated Film, the International Animated Film Festival of Espinho, and Cartoon Club - International Festival of Animation Cinema. At the same time, Dayfly received many awards such as the Asia Road Prize of Korea Independent Animation Film Festival (Indie-AniFest 2021), Jury Distinction Award of Student Short Films at 2021 Taichung International Animation Festival, and "Guang Hua Cultures et Media" Special Mention at 2021 Ca'Foscari Short Film Festival. The film has been selected as one of the outstanding online audio-visual programs of the National Radio and Television Administration, PRC.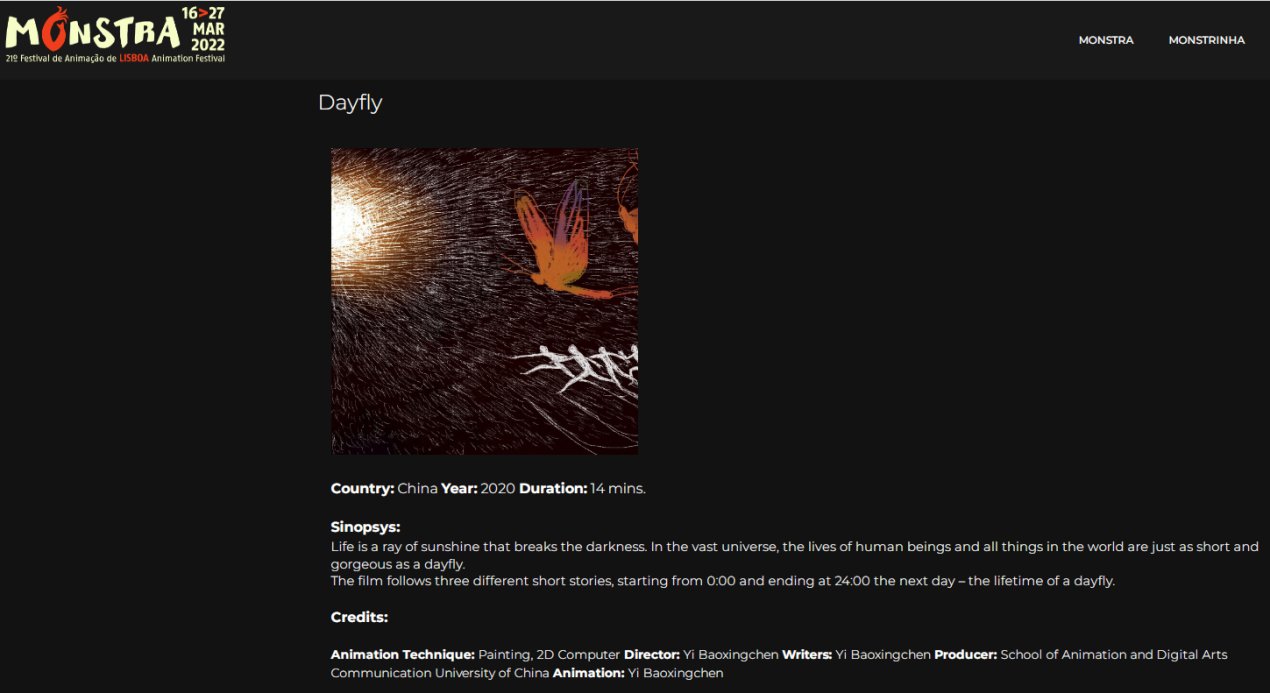 Introduction of Dayfly posted on the official website of MONSTRA 2022
Founded in 2000, MONSTRA aims to celebrate artistic transversality, promote the encounter between people from different arts and transmit new aesthetic perspectives, using the most basic and multidisciplinary language - animation films. With the joint support of the Institute of Cinema and Audiovisual and the Lisbon City Hall, this festival is already considered as a notable event in Lisbon's cultural scene and enjoys a high reputation in Europe.
Editor: Brenda Teh Xiao Tong
Chief Editor: Zheng Shuyu
Advisor:Zhang Xu