"Global Anti-pandemic, We Are Together" short videos jointly collected by CUC and CPAFFC
Author:Qin Chong

     2020-11-16

Award-winning short videos of international youth telling stories about combating COVID-19 were launched on October 19 on the internet, as a result of an anti-pandemic campaign that lasted for more than half a year.



A total of more than 340 submissions from 26 countries and regions were received. The videos, collected under the campaign of the Chinese People's Association for Friendship with Foreign Countries (CPAFFC) and the School of Humanities of Communication University of China (Chinese International Education Center) [SHCUC(CIEC)], were evaluated by experts from both parties. In the end, 22 video submissions won the first, second, and third prizes and excellence awards respectively.



Lin appears on the promotion video
Ambassador Lin Songtian, President of CPAFFC, said that every country and civilization has its own strong spiritual power, which is vital to defeating the pandemic. When the virus is raging around the world, teenagers across the globe shot anti-pandemic stories around them to cheer for the people who are fighting the virus and express their vision and hope for a better world.

Lin also stressed that the virus recognizes no borders or races for that mankind is a community with a shared future. "We should defeat the virus and protect our homeland in cooperation," he said.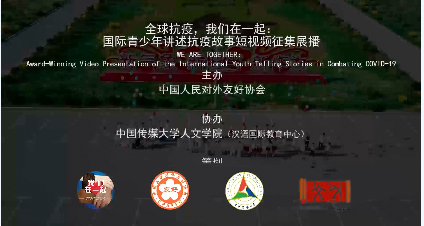 This campaign has made a positive contribution to the global journey of "Unity, Care, Friendship, and Cooperation", in the belief that cultural communication can bring spiritual strength to people around the world.

People's Daily Online, CRI, World Wide Web, NetEase News, China Net, and The Paper, all reported on this campaign.