CUC seeks cooperation with its overseas counterparts in pursuit of a Community with Shared Future for Mankind
Author:Ginson Lim

     2020-10-31

Guided by the vision of building a Community with Shared Future, CUC's efforts in deepening its overseas cooperation bore fruit, testified by the launching of the International Research Centers and the International Academic Networkfor a Community with Shared Future. The ceremony was held at Mingde Lecture Hall on October 23 .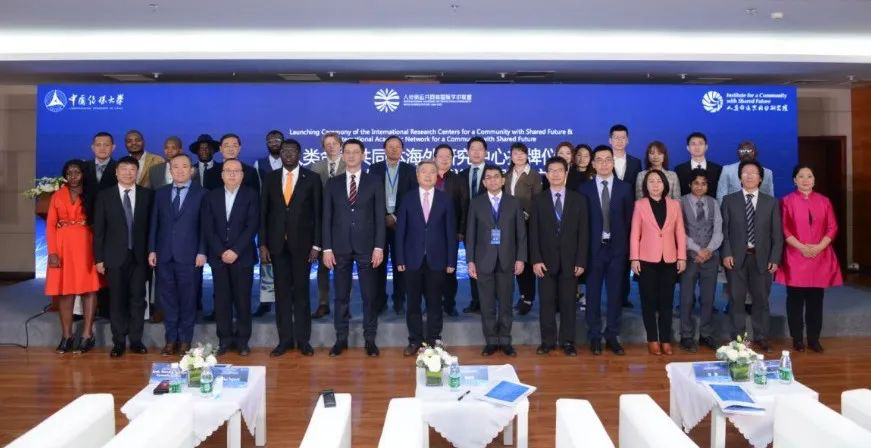 Liao Xiangzhong, President of CUC, along with the leaders pose for a group photo.

Following the opening address by Duan Peng, Vice President of CUC, the ceremony started off with a welcoming speech by Liao Xiangzhong, President of CUC, who gave brief introduction on the establishment of the Institute for a Community with Shared Future (ICSF). Liao said the concept of building a community with shared future for mankind "embodies the aspirations and common values of all human beings".Committed to the ideal of world unity and cooperation, this concept not only meets the needs of social development, but also serves as the inevitable solution to global challenges, Liao said in his speech, noting that CUC will remain steadfast in pursuing open education and strengthening foreign exchanges and cooperation. Through connections with universities, institutions, experts and scholars around the world, ICSF is bound to stand tall as the high-level international academic platform for global communication and governance, and promote dialogues and peaceful development among civilizations.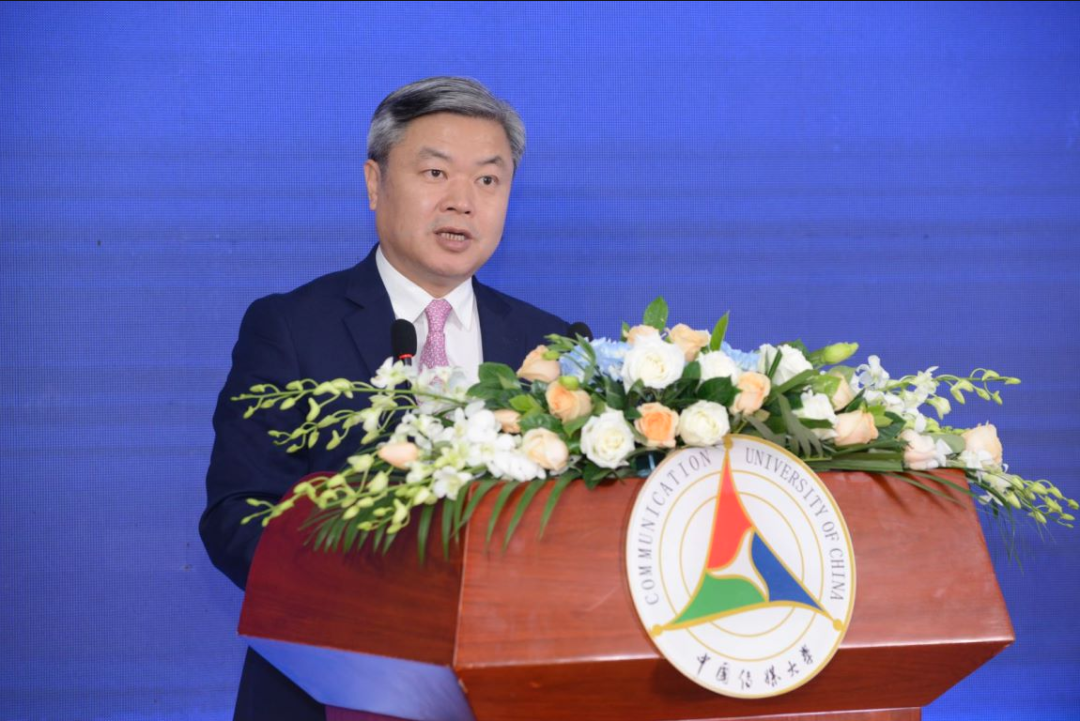 The ceremony is commenced by President Liao, giving welcoming remarks to the guests.

Several senior officials and experts attended the ceremony and delivered keynote speeches. Among them was Kabiné Komara, the former Prime Minister of Guinea, who gave an online speech on water scarcityissue. He highlighted the importance of collaboration in tackling global water crisis and preserving water resources.

H.E. Farooq Ahmed, Minister of Islamic Republic of Pakistan in People's Republic of China, emphasized the engagement with the rest of the world in pursuit of win-win cooperation towards building a community with shared future for mankind, taking the China-Pakistan relation as a remarkable example. He also praised China for the victory in combating COVID-19. Yang Dawei, Representative of Chinese Affairs, Ban Ki-moon Foundation for a Better Future, delivered remarks in the congratulatory letter made by Kim Sook, Executive Director of Ban Ki-moon Foundation . In the remarks, Kim Sook mentioned that the foundation would support the internationalization of CUC and development of ICSF.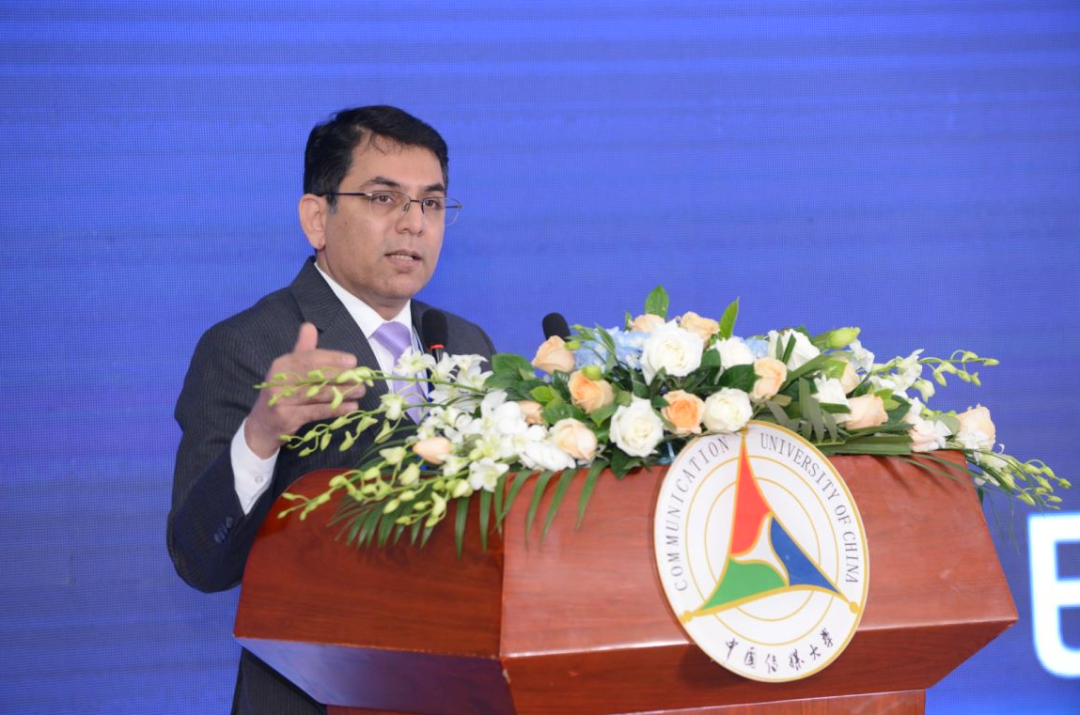 H.E. Farooq Ahmed, Minister of Pakistan to China, delivers his speech.

After speeches by dignitaries, the unveiling ceremony of seven international research centers of ICSF officially kicked off amid rounds of applause. Li Huailiang, Dean of ICSF, reported on the series of academic activities of the institute since its establishment, looking forward to spreadingthe recognition of ICSF's ideal and building closer partnership towards sustainable development and mutual prosperity. Later, Zhang Yanqiu, Vice Dean of ICSF, announced the initiative on the International Academic Network, followed by Wen Chunying, Vice Dean of ICSF, who presented the International Communication Report on the Notion of Community with Shared Future, published by the research center.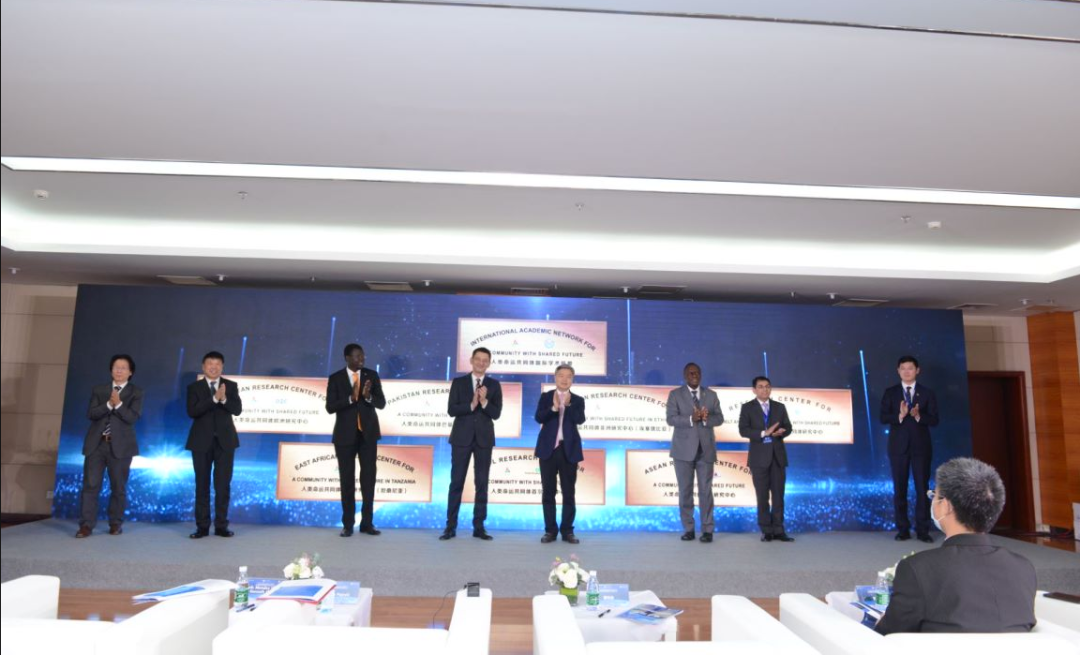 Leaders on stage unveil the seven research centers for a community with shared future.

Subsequently, chaired by Ji Deqiang, Vice Dean of ICSF, virtual speeches were delivered by directors of the seven international research centers, namely Jean-Christophe Bas (ICSF European Research Center), Koh King Kee (ICSF ASEAN Research Center), Costa Rick Mahalu (ICSF East African Research Center), Getachew Dinku Godana (ICSF African Research Center), Kim Hyoung-Tae (ICSF Seoul Research Center), Lt.Col.Khalid Taimur Akram (ICSF Pakistan Research Center) and Ahn Chiyoung (ICSF Research Center for the Belt and Road and a Community with Shared Future).

The final part of the ceremony was an academic speech session. Major General Syed Khalid Amir Jaffery HI(M), (Retd) of Center for Global and Strategic Studies in Pakistan, stressedthe importance of collaboration in the academic domain. Kerry Brown, Director of Lau China Institute of King's College London, United Kingdom, then urged better understanding of differences and challenges among civilizations through communication.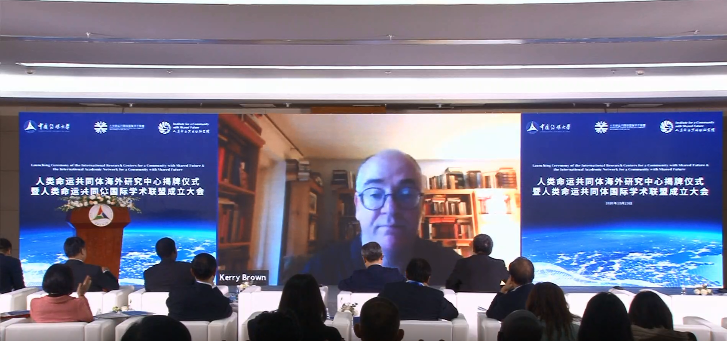 Kerry Brown, Director of Lau China Institute of King's College London, United Kingdom, delivers virtual speech for the ceremony.

Representatives from Ningxia University, Beijing Normal University, International Department of Central Committee of CPC, China Institute of International Studies, and the Center for International Communication Studies of Academy of Contemporary China and World Study in China Foreign Languages Publishing Administration also delivered their speeches.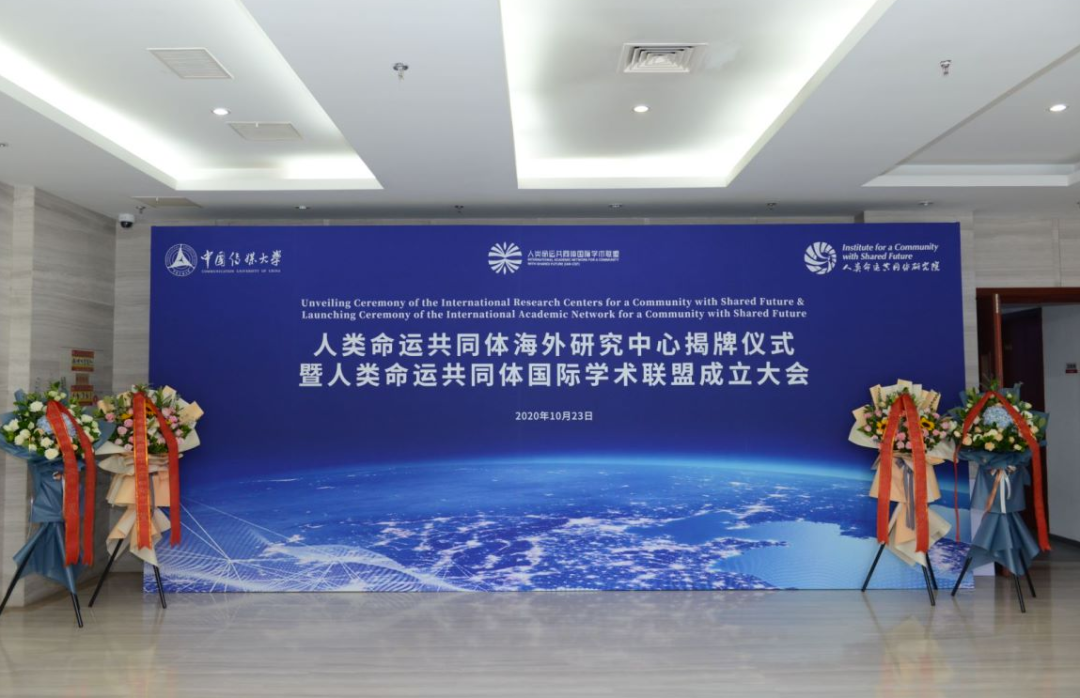 With eyes on China and the world, the conference aims to build a global network of experts and scholars of different professions, attracting researchers from all over the world while focusing on the destiny of mankind and global future.

The ceremony was jointly hosted by ICSF of CUC,seven think tanks, universities, research institutes and media organizations from Germany, South Korea, Pakistan, Malaysia, Ethiopia and Tanzania. Over 100 participants, including former foreign dignitaries, heads from relevant ministries and departments, leaders from CUC, foreign ambassadors and counselors in China, as well as renowned experts and scholars from home and abroad, were brought together, targeting academic circles in spreading the notion of a community with shared future in a global context.
The entire ceremony was conducted both offline and online. Meanwhile, it was broadcast live at Yangshipin, iQIYI, Douyin, Bilibili, Baijiahao, CUC official website and Weibo account,reaching over more than 100,000 views.

Editor: Zhang Xu,Wang Yixia, Song Yidai