CUC impresses its newcomers with love as a grand ceremony unfolds
Author:Wang Ying, Song Yidai, Wang Yixia

     2020-09-20

Communication University of China (CUC) held its 2020 Opening Ceremony on Thursday, officially kicking off the brand-new academic year.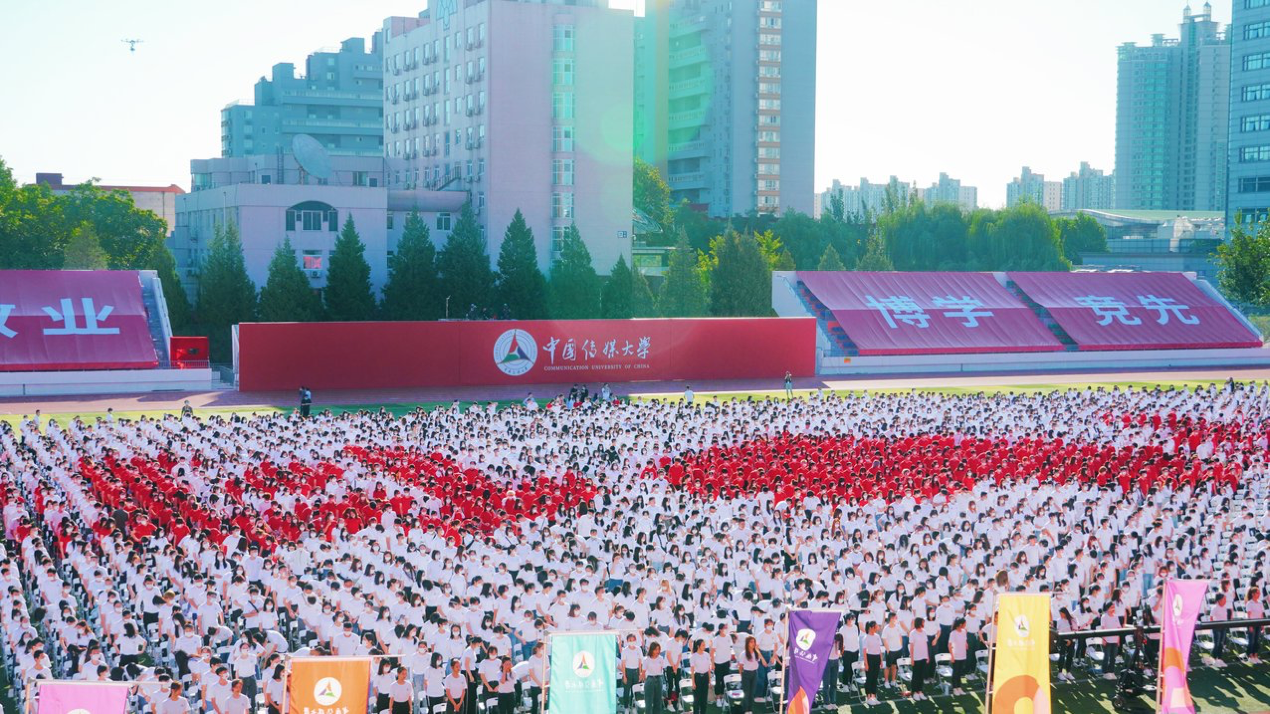 All freshmen exclaim "CUC, I'm coming" as the grand ceremony begins (by Song Yidai)
Jiang Xufan, Vice Chairman of the University Council, presided over the ceremony and Chen Wenshen, Chairman of the University Council, declared the start of the Opening Ceremony in an atmosphere warmed up by short videos of alumni wishes, CUC landmarks introductions and freshmen expectations, and by an exclamation of great vigor, "CUC, I'm coming!'"

School and faculty leaders attend the ceremony
Liao Xiangzhong, President of CUC, addressed the freshmen as "winners of the 2020 great trials" and called the Opening Ceremony as an "extraordinarily unusual time of solemnity".
He then underlined the significance of reading, urging students to regard it as not only a way of life but a spiritual pursuit. Facing plethora of information, President Liao hoped that books can serve as helpful navigation.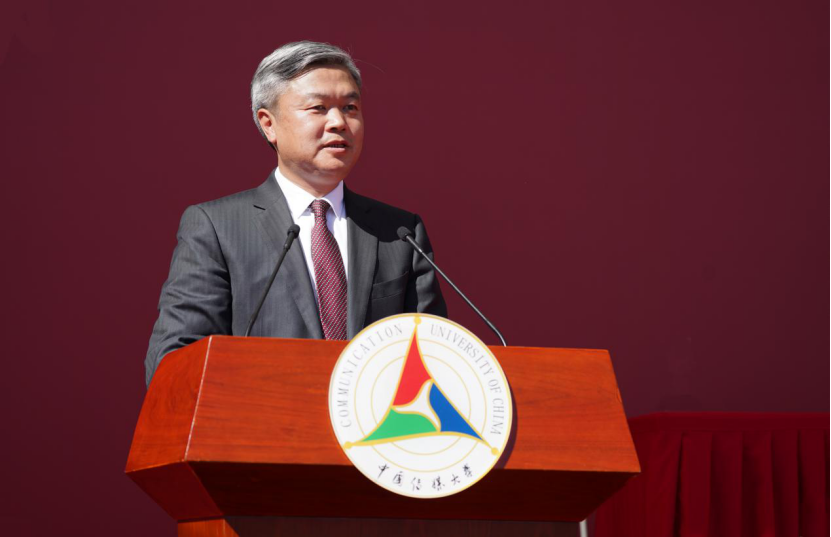 President Liao Xiangzhong highlights the importance of reading in his speech

Representatives of faculties, students, alumni and newcomers also addressed the ceremony, sharing their individual experience and common pride for the University. President Liao's speech was followed by the CUC school badge conferment, during which freshmen pinned the insignia onto their uniforms with a sense of honor.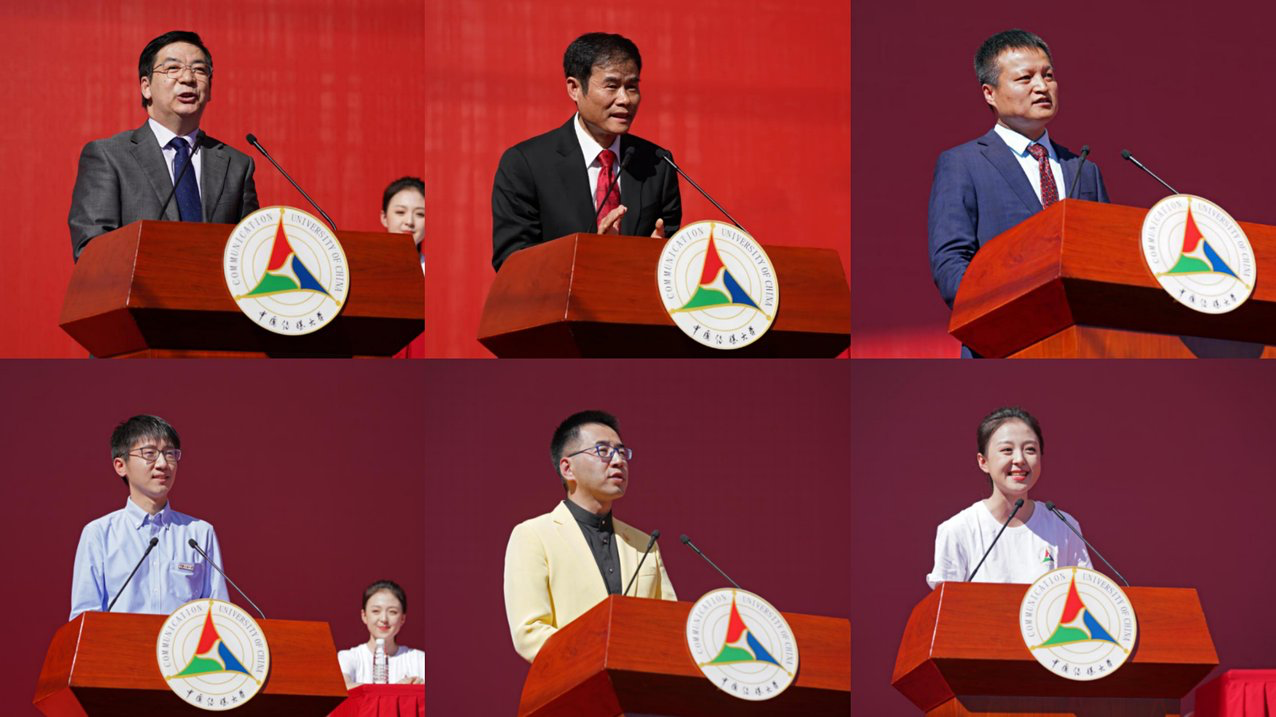 Speeches of welcome for newcomers and their shared pride in CUC

After being held in Center for Student Activities for three years, the opening ceremony was brought back to the stadium. The east bleachers were covered with two giant banners reading "Integrity, Professionalism, Erudition, Competence", the motto of CUC. "I think it's really nice to have all of us gathering together on the stadium after the pandemic, where you can feel safe and, in a way, it also represents vitality and health." said Nika, a freshman from Ukraine, majoring in Art Management in School of Cultural Industries Management.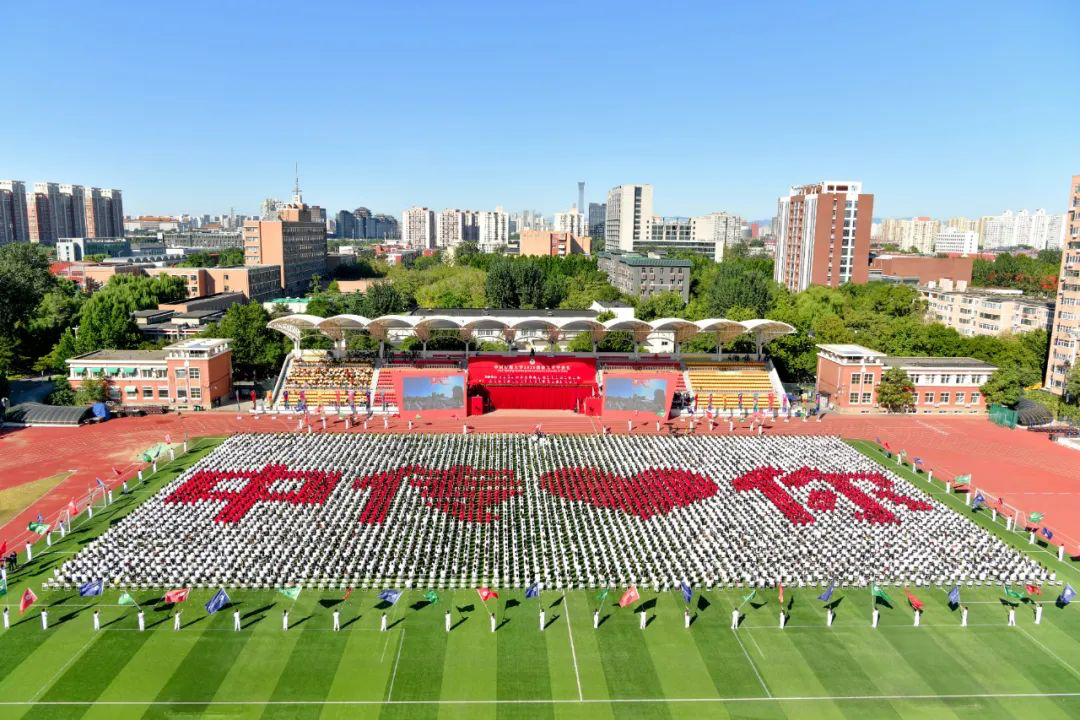 5,321 freshmen make up the phrase "CUC LOVES YOU(中传爱你)"

5,321 freshmen in white and red were seated on the football field, forming the phrase "CUC LOVES YOU(中传爱你)", the theme of the ceremony, as part of the meticulously designed extravaganza. "It's very creative and memorable putting up the characters," said Nika. According to Yang Boyi, a student staff of the ceremony, it took nearly 8 hours to finish the seat arrangement as it rained during the preparation.
Sofia, who majors in Literature and Art Directing, was also much impressed by the ceremony. She didn't feel the same excitement as Chinese students on her first day of arrival. Wandering around the campus, she could hardly see anyone like her. Indeed, a semester barely awaken from the impact of the pandemic posed challenges particularly to foreign students. Only six entrants, most of whom had an educational background in China, managed to arrive for registration. Nevertheless, Sofia and others, albeit with a slight sense of alienation, began to accrue confidence for life at CUC after the opening ceremony.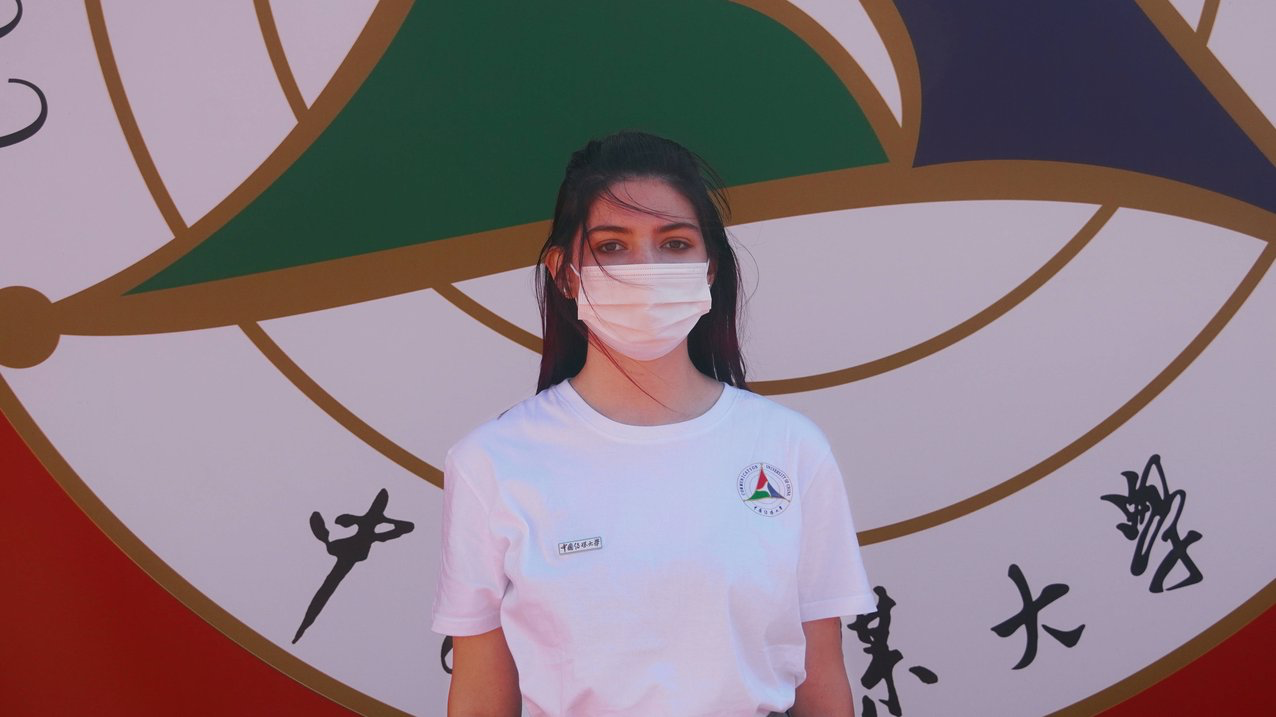 Sofia shares her thoughts of the ceremony (by Song Yidai)

"I was moved by the speeches made by the school officials and teachers," in fluent oral Chinese, the Russia-born and China-bred freshman said, "As my dream school since Fifth Grade, CUC really lives up to my expectations." She aimed at journalism at the beginning and found herself more interested in directing later.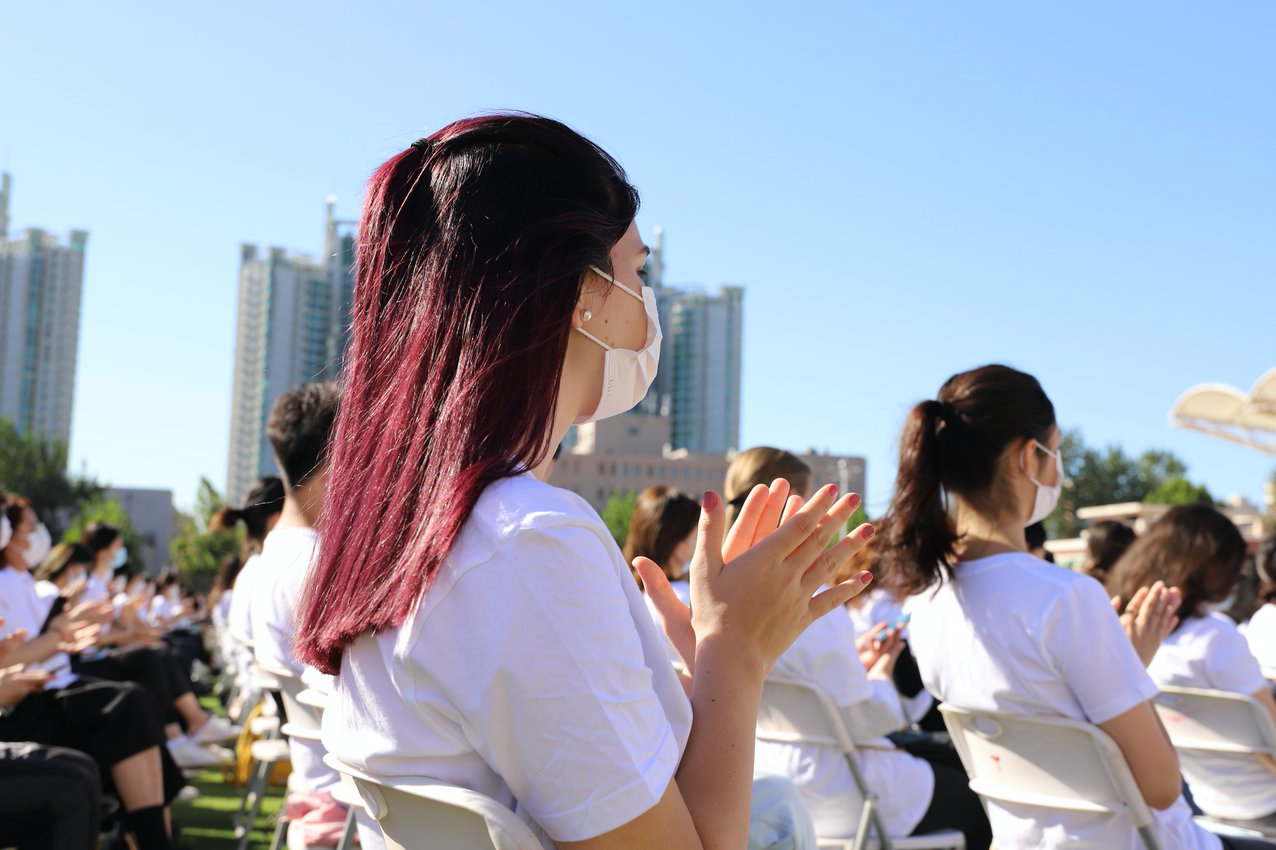 Sofia watches the ceremony with rapt attention (by Wang Ying)

"This major is said to be of national class, and my family also suggested me to go for it." Sofia explained. Now proudly being a member of School of Theatre, Film and Television, she is bullish about her upcoming campus life: "I look forward to practical courses, and probably being an internship at a Chinese television station." She believed that such experience would be of much value for her future staying in China.
Just like Sofia, Nika is also here for the top-notch major. Before becoming a CUCer, she completed her undergraduate education in Chengdu, China. When talking about the reasons why she chose CUC to continue her study, she said, "Not many universities set up the major of Art Management. And among all of them which do offer this project, CUC is the best."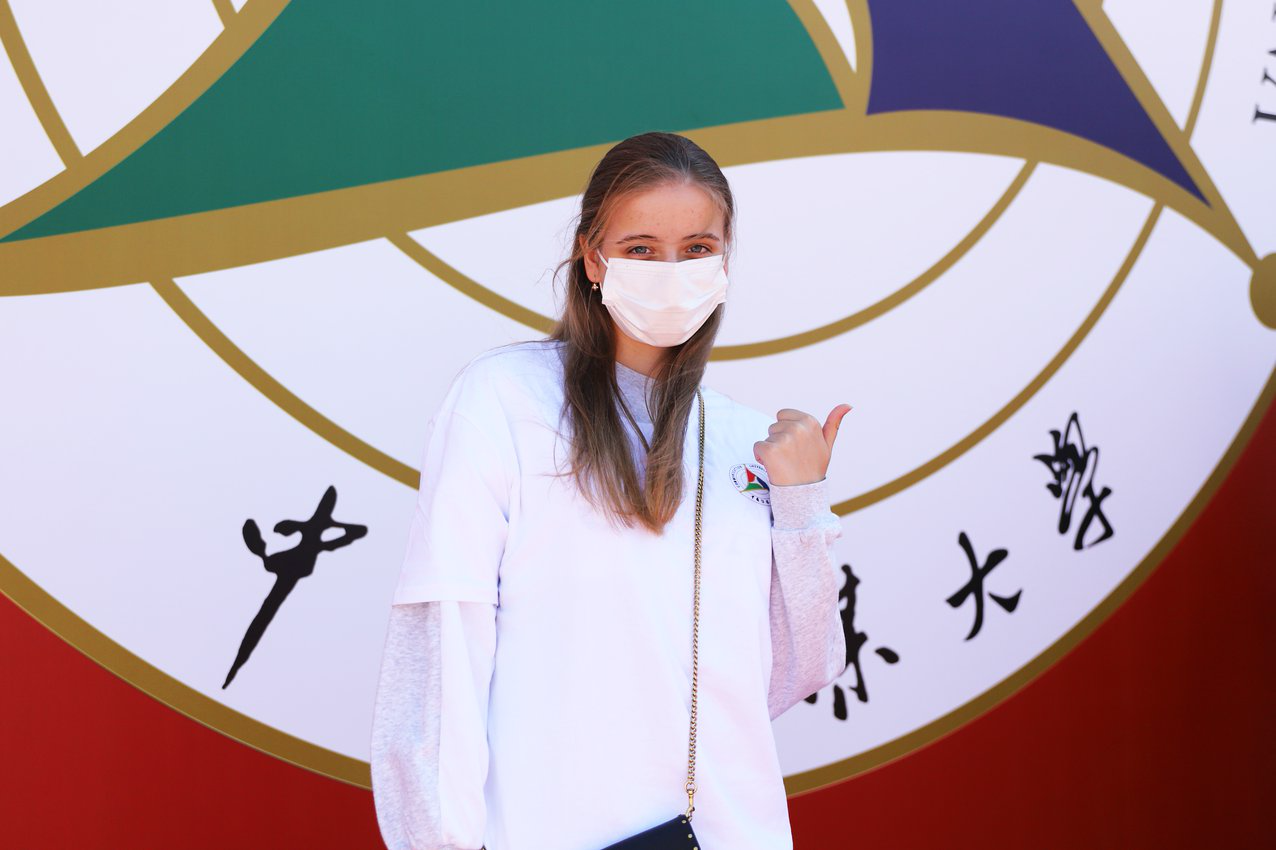 Nika speaks highly of her major (by Wang Ying)
New city, new school and new life also excite Ji Musha and Zhao Bowen, who used to be undergraduates majoring in Journalism in Shanxi. The two four-year classmates and roommates hurried through senior undergraduate year amid the postgraduate exams, the pandemic and graduation. Though facing great changes, "the best journalistic major in China" kept them going, day by day closer to their dreams. Now that the toughest days were over, today they had CUC badges on their chests, dazzling in the autumn sun.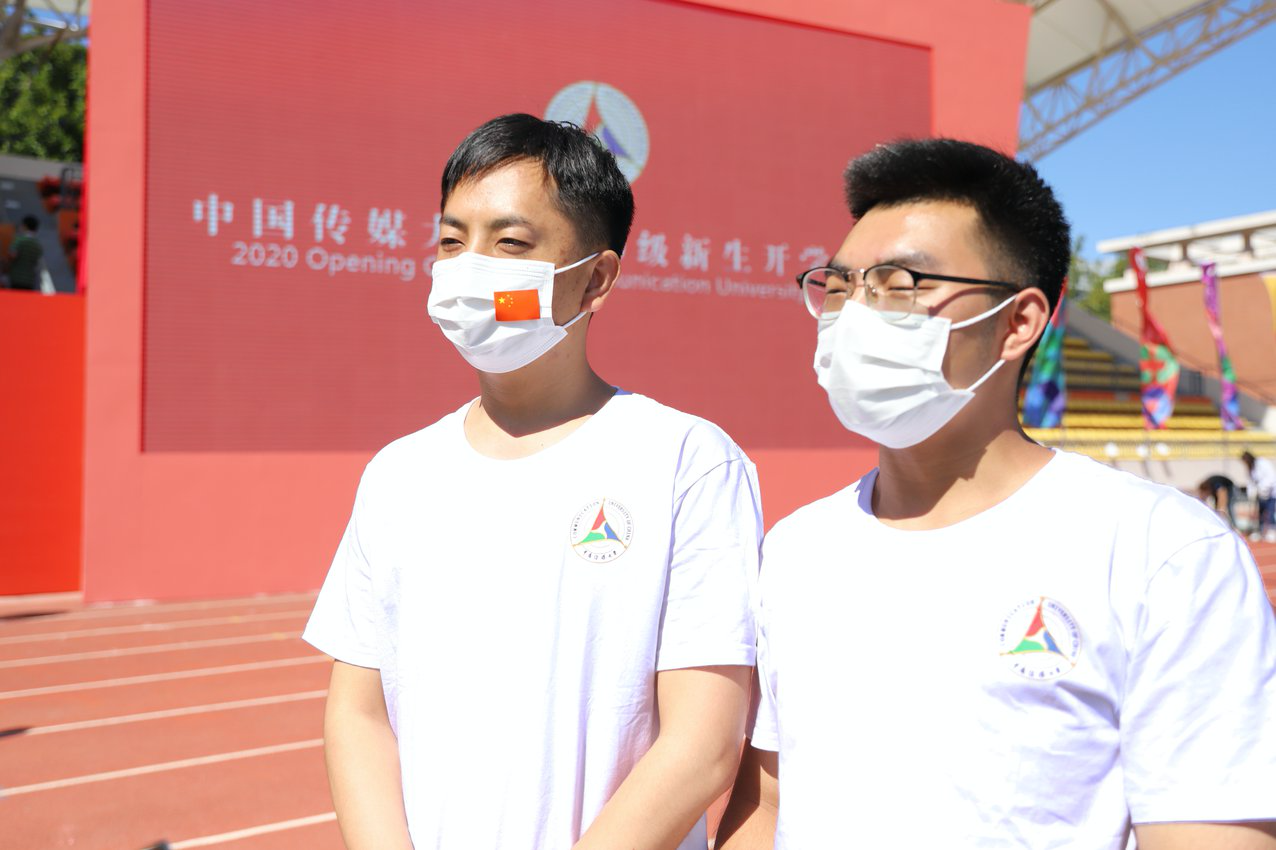 Ji Musha and Zhao Bowen are resolute to work harder in their postgraduate study (By Wang Ying)
"The opening ceremony is so grand that it creates a sense of ritual, allowing me for the first time, to feel honored as a student. And it really makes up for the regret caused by the cancellation of my undergraduate graduation due to the pandemic." Ji said.
(by Wang Ying)
The ceremony was broadcast live on about 20 new media platforms, including IQiYi.com, Weibo, bilibili, etc., drawing more than two million viewers within a day. Hash-tag "CUC Opening Ceremony 2020" has become a trending topic on Weibo, a Twitter-like site, and was read and heatedly discussed by over thirteen million users.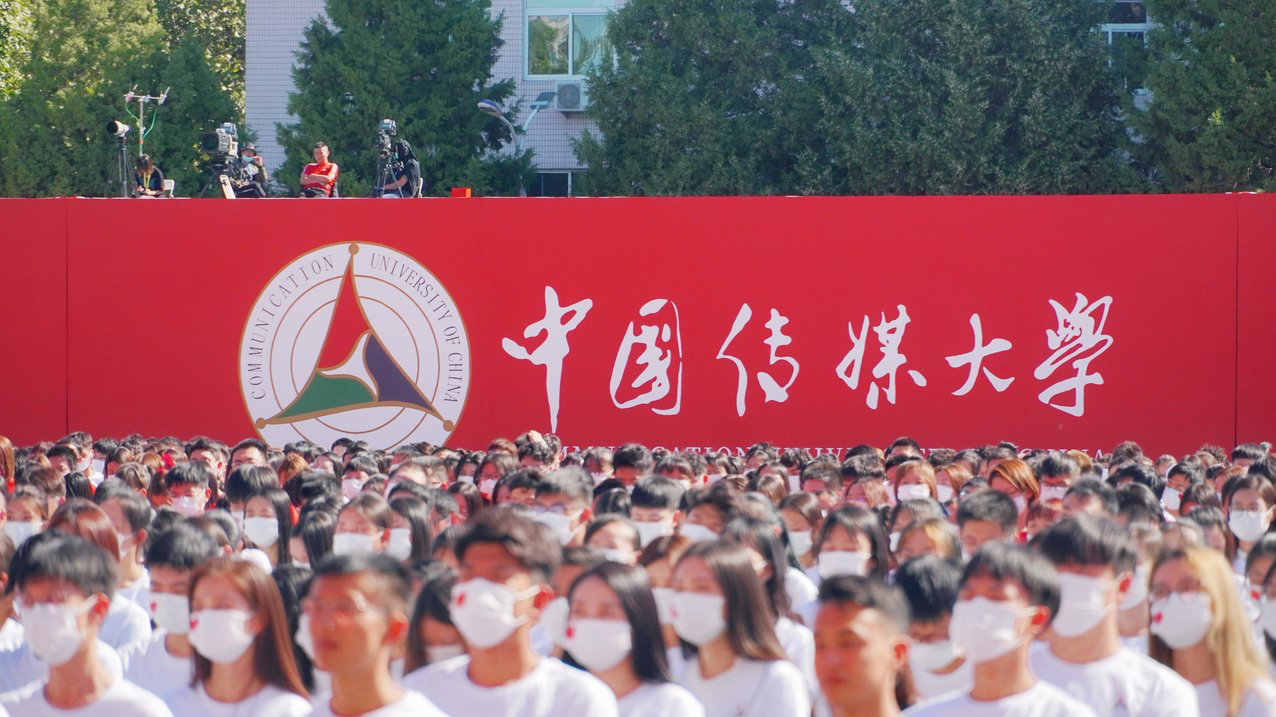 (by Song Yidai)
Editor: Jiang Chuqin, Zhang Xu