100 Regiments in one battle after nine months leave from school
Author:Li Yimeng, Peng Danlei

     2020-10-27

Various student associations gathered around the Confucius Square last Saturday to recruit new members in spite of a one-month delay due to COVID-19.

Sixty-eight clubs was divided into four categories ranging from science, arts, sports to volunteering, encouraging students to sign up. Club members distributed leaflets to introduce their clubs and answered questions raised by students, who were welcome to seek advice from clubs that interested them.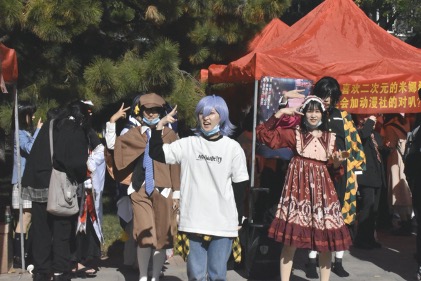 Members of the TRY Animation Club draw a lot of attention by cosplay
Members of the TRY Animation Club dressed up as characters from their favorite anime, widely known as cosplay — one of the sub cultures in the animation world. They performed Curtilage Dance, which uses ACGN culture-related music as accompaniment to choreographed dance works or dance activities, to attract freshmen. We are not only looking for companions to talk about anime, but also expect to discover the lifestyle we're willing to follow together, said one member of the club.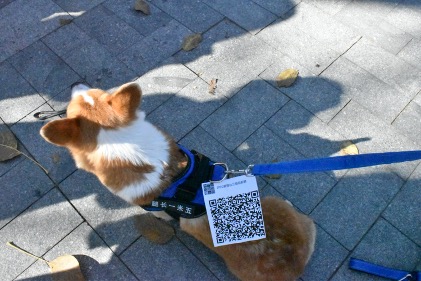 A dog from Cat-loving Club and the Humane Club wagged its way towards the crowd
A dog carrying a QR code on the back, attracted much attention among the students. This turned out to be a smart and effective way for the Cat-loving Club and the Humane Club to recruit members. With the aim of protecting stray animals on campus, we offer them accommodation, promote pet adoption and popularize knowledge about it. said one member of the Cat-loving Club.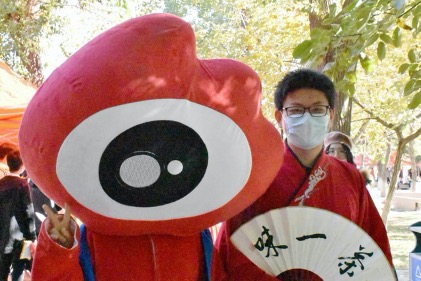 Association of Weibo are in a high mood with their mascot
As for the Association of Weibo, a member wore a costume in the shape of a big eye (logo of Weibo), and walked around in the field. Weibo is a kind of popular social media in China, and this association has been running its own Weibo account, introducing students' daily life in CUC. "This is a platform for the exchange of ideas, where you can get in touch with the world of new media and apply what you have learned." said one club member.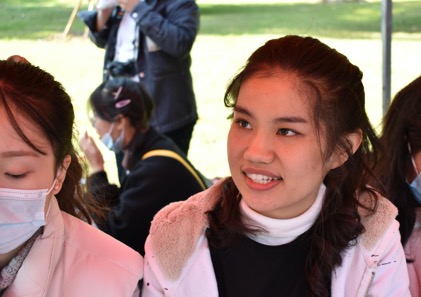 Member from the Qingying Dance Club introduces themselves
The Qingying Dance Club aims to promote traditional Chinese dance. Also, it helps club members to make like-minded friends. Due to the pandemic, the Qingying Dance Club has launched a series of online events. For instance, the members introduce different styles of classical dance by writing WeChat articles.
"We are now planning to organize more offline activities," said one club member, "like weekly dance training and in-person meetings."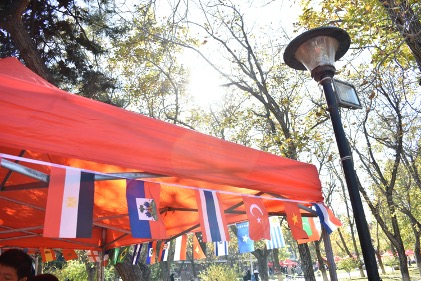 Non-lingua Franca Association decorates their spot with various national flags
Zero-basis learners are welcome!", the Non-lingua Franca Association was actively recruiting new members. "Our goal is to help students build international perspectives and learn more about cultures of different countries." said one club member.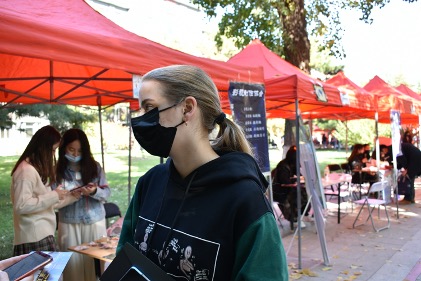 Nika, observing the pandemic prevention requirement, shares her thoughts on the event after signing up for her ideal club
To emphasize the pandemic prevention, participants were required to wear masks the whole time. The requirements, though strict, did not dim students' enthusiasm for signing up for clubs. Nika, a postgraduate student from Ukraine, was lingering in front of the Film and Television Creation Association. Back at her hometown where there were few chances to join in such clubs, she was able to experience a different campus culture here today. "Hopefully joining a club can enrich my school life and allow me to communicate with others." she said, looking forward to an official membership in her favorite club.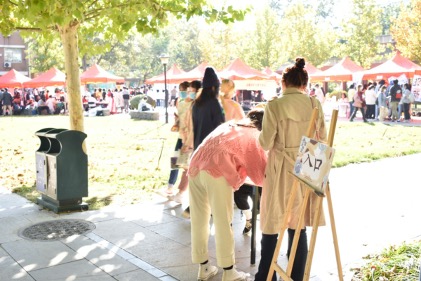 Students register their information before entering in response to the pandemic prevention
There were four entrances and exits surrounding the Confucius Square, where special personnel were monitoring the body temperature of on-site students and conducting leaving guidance. Signs for promoting pandemic prevention were set up, reminding students not to take their masks off.
With the Coronavirus (COVID-19) continuing to spread globally, students in all provinces studied at home last semester. After nine months of leave, they were finally able to return to school to experience the missed activities and compensate for the regret of being apart from one another. The end of the 100 Regiments in One Battle in a way heralds a phased victory for CUC in the fight against the pandemic.
Photos: Peng Danlei
Editor: Jiang Jiaxin, Wang Ying, Song Yidai, Zhao Yiming